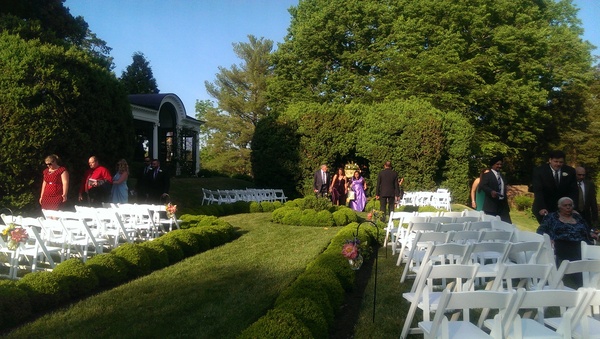 For the last 6 months I helped a very dear friend of mine out with her wedding and we never know when you have to be prepared for the unexpected.  As we prepared for the big day a lot of things continued to surface. This brings me to the topic of Never say Never. We all have a plan destine for us to fulfill we just don't know what that plan will be until revealed. Wait don't stop reading I really need to say this. As I was traveling for these 6months up & down corridor 95 I was wondering what was my role to play in this world. And as my girlfriend kept saying, you are the one to get things started. I now know that I'm the FireStarter, the one to take a dream and elaborate on it. It's funny because I never saw that in myself until she kept saying. So it made me think back to all the times when events or projects had to get started & who was the one making all the arrangements.  But I did have to pause for a moment to consider all things.
So in considering all things, as most of you may know I am a very private person and there are people that help me make these dreams come true. I wouldn't be able to do anything without the aid of my family & wonderful husband.  They have been with me through the beginning until now.  Being able to relay on much needed support at times is what we all need because you Never know when things will make you slow down or pause life for a minute. Just be prepared in your daily life for the unexpected & never say never.
With knowing all things timing plays a major component along with budgeting. Which brings to the topic of never doing what you set out to do. Most think you have to have a decent income or tons of money to travel. That's a big misconception of those who don't travel frequently enough. On my very first vacation, I spent about $400 and that was air and hotel. Of course, it was well over 15 years ago but I was young mom with 2 children that needed a break. So my girlfriend and I planned a year in advance to choose a destination and save. So the key to traveling on a budget is to plan ahead maybe 15 months to a year in advance, put money away (have a few dollars from your paycheck go towards a separate account that you can't access) or my biggest was to cut out unnecessary spending (eating out, shopping, nails). Travel became such a necessity every year that I found tons of ways to save money and only to spend on what was needed so I could travel and experience different cultures exploring the world. So for those of you who doubt this will work do a simple test. If you eat out every day or buy coffee just add up your receipts from the year before to see what your total would be and see if it's enough for a vacation. If it is…start planning your vacation.
http://www.cater2utravels.com/wp-content/uploads/2015/03/Trans_logo2-300x167.gif
0
0
Faye
http://www.cater2utravels.com/wp-content/uploads/2015/03/Trans_logo2-300x167.gif
Faye
2015-06-04 10:08:27
2015-07-18 11:26:20
Never Say Never!